Miami's Wynwood Art District is part neighborhood, part giant art canvas that has been used by some very talented artists. Over a relatively short period of time, Wynwood has developed into a trendy arts district. It is home to some pretty fabulous and numerous exhibit spaces – from art galleries to warehouse exhibitions and street art. Enjoy the NEW Miami City Tour to experience Miami's creative side.
Wynwood has swapped its previous industrial hub status for that of a cultural and artistic hub in a relatively short space of time. One of the main catalysts behind this transformation is the momentum created from Wynwood Walls – Miami's outdoor graffiti park. It's an astonishing space that started life as a handful of commissioned street art projects, but now boasts 40 or more murals from world renowned street artists including Shepard Fairey – the street artist and graphic designer behind the now iconic Obama 'Hope' poster. Wynwood Walls is an outdoor art museum, where sometimes the buildings themselves are the canvas. The scale and levels of creativity are incredible, and surveying them in the Miami sunshine is particularly memorable.
Most of the murals have been in place for years, but each December there will be new works added for Art Basel – a four-day art show hosted in Miami, Basel and Hong Kong. The Miami leg of the event will exhibit work from modern and contemporary art masters from across the world. More large-scale installations will become part of the Miami cityscape – and this includes some new temporary murals at Wynwood, which will compliment the incredible artwork that's there permanently.
Wynwood's success as an art district is also down to some of the pioneering galleries that are based here. The Rubell Family Collection is one of the world's largest, privately owned, contemporary art collections, which includes work by Damien Hirst and Andy Warhol. Founded in the 1960s by the Rubell family in New York, it moved to Miami in the 1990s and is now located in a 40,000 square foot warehouse – an exhibition space which is characteristic of Wynwood Art District. Also, find out more about Miami's artistic heart with our blog on the Perez Art Museum.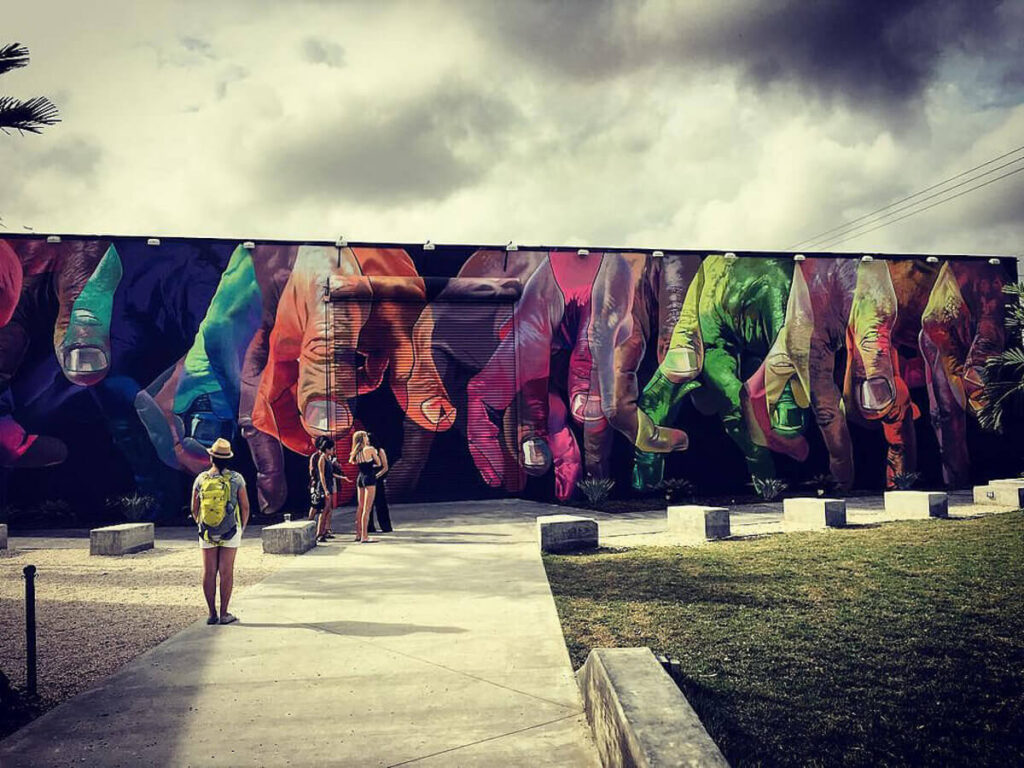 Warehouse galleries abound in the Wynwood Art District – the old industrial structures regularly house celebrated names exhibiting their own works and those of up and coming artists. Prominent photographer Dina Mitrani returned to Miami and took over her father's old clothing warehouse – swapping mannequins for masterpieces of her own making. Her presence has been instrumental in the establishment of the Wynwood Art District, as has that of Fredric Snitzer who has been here since the 1970s exhibiting his own work, alongside young emerging artists who've been given an opportunity to show off their talent.
Wynwood's appeal deepens when you consider the trendy bars and wonderful eateries and dining destinations, which you can experience on our Wynwood Food Tour, it has to offer. There's also the draw of the neighboring Design District – also home to some great eating and drinking establishments, as well as luxury retailers and designer maker shops focusing on fashion and interior design. As you'd expect, there's also public art installations across Miami's Design District– perhaps the most prominent being the Buckminster Fuller Fly's Eye Dome – inspired by the eye of a fly and a forerunner to today's environmentally conscious homes.
So, Wynwood Art District is proof, if proof were needed, that there's more to Miami than South Beach and Ocean Drive. Miami is the ultimate holiday destination – and Wynwood Art District is its distinctive cultural side. It's a renowned canvas for some of the world's leading and most celebrated contemporary artists. We'd be delighted to help you discover Wynwood when you visit Miami – hop over to the to the Gray Line Miami website at graylinemiami.com to for information on the best way to tour the area, and the city in general.