Perez Art Museum Miami (PAMM) perches on the edge of Biscayne Bay and showcases a phenomenal collection of art from the 20th and 21st centuries. The building itself, which was built in 2013, is breathtaking. Sitting in the heart of downtown Miami, it offers beautiful, sweeping waterfront views, complimented by its striking vertical gardens that hang the length of the three story windows. The Perez Art Museum is a perfect stop on the Gray Line Miami Hop-On Hop-Off bus tour.
The PAMM is one of the early stops on the Gray Line Miami bus tour, and one of the best ways to start any visit is to soak up the stunning location from the museum's sculpture garden. From there, you can enjoy the outdoor art installations whilst taking in the views of the waterfront. It is a beautiful and spacious oasis on the Bay. 
Inside PAMM, there are two main levels to explore. It's a perfect way to spend a morning or afternoon in Miami. The collection of more than 1,000 exhibits is popular with adults and children alike – since the latter are usually drawn by the color or use of light and sound in many of the exhibits. Given its location, many of the artists are from Central, South and North America. PAMM is a hugely important platform in the representation of artists from Caribbean and Latin America cultures.
The layout makes it very easy to stroll through the main exhibition spaces. You can also download the PAMM mobile app that provides brilliant context to the exhibits, audio tours, videos and an interactive map. Look out for the works of Carmen Herrera- a Cuban American abstract and minimalist painter, and Sol LeWitt, an American conceptual artist.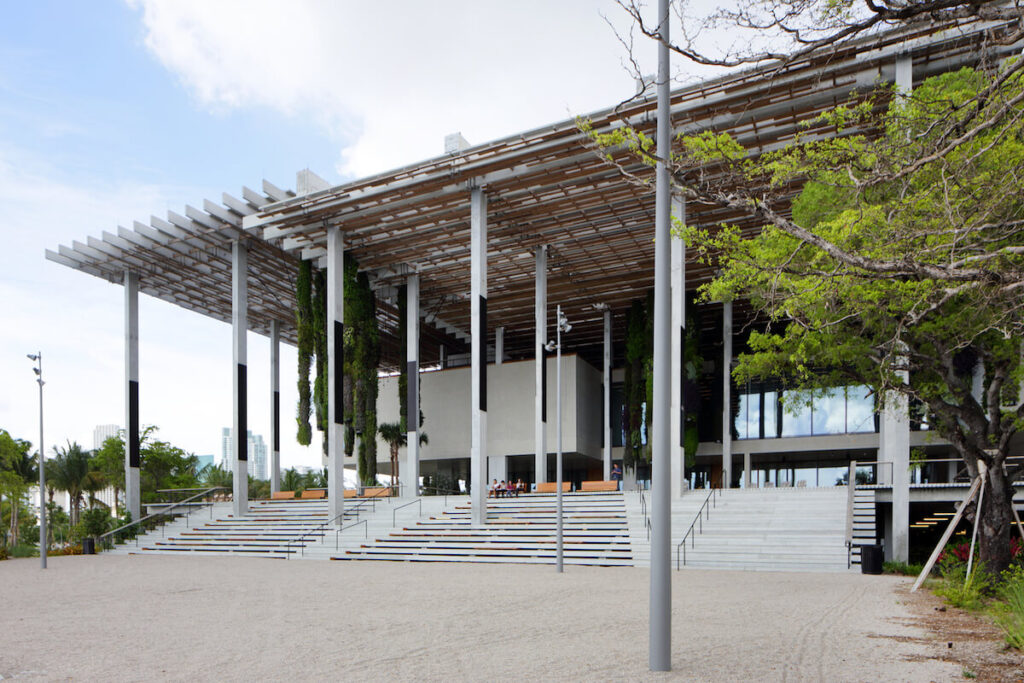 PAMM boasts a really beautiful restaurant – Verde – which is a destination in its own right. You'll get some fabulous views of the beautiful waters of the Bay, and perhaps some of the vast cruise ships that dock there, as well as some fabulous food. The menu is varied, suits most tastes – and draws inspiration from Miami's many influences.
The Perez Art Museum has recently welcomed its one-millionth visitor. Its popularity is down to the unique setting and fabulous content, as well as the popular series of cultural and family oriented events it hosts. Hop over to the Gray Line Miami website at graylinemiami.com to find out how you can get to the museum via the Hop-On, Hop-Off Miami bus tour.