Our insider guide to shopping in Miami, including the best areas, malls, and stores. Many thanks to the fabulous Gray Line tour guide, Rocio – our resident Miami expert and shopping aficionado!
Aventura Mall
Aventura Mall is the largest mall in Florida and boasts all the big names. If you are looking for the ultimate Miami or USA shopping experience, this is a great option. You'll find Macy's, Bloomingdales and Nordstrom all resident here, as well as a mix of boutiques. It's also home to a number of chain restaurants and a 20 plus screen cinema. Aventura Mall is a 20-minute drive north of South Beach. 19501 Biscayne Boulevard, Aventura.
Bal Harbour
This outdoor mall is very much a luxury shopping destination – beautifully designed with koi ponds and art installations all around. You'll find upmarket boutiques and designer flagship stores, as well as Saks Fifth Avenue and Neiman Marcus department stores. Bal Harbour Mall is at 9700 Collins Avenue, Bal Harbour.
Lincoln Road Mall
Situated right in the heart of South Beach, this open-air mall is a favourite with locals and tourists alike, and as a result it always seems pretty busy. You'll find a mix of high-end shops like Anthropologie and Alchemist alongside some of the regular shopping names like Apple and American Apparel – not all shops start with an A though, it's ok. There's a movie theater, art gallery and even a farmer's market there each Sunday. You'll find it on Lincoln Road, South Beach.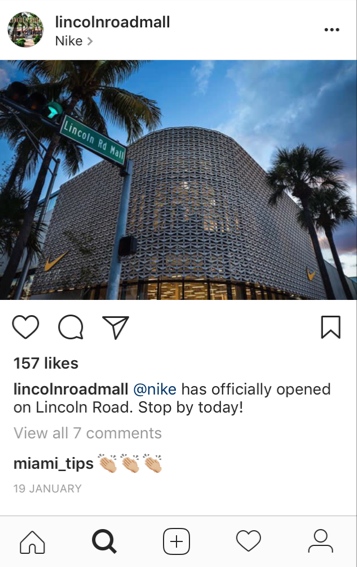 Hint
I'm a fan of Hint Miami which opened around 4 years ago and has steadily grown in popularity ever since. You'll find all sorts of clothes, shoes and accessories at this store, from casual to limited edition designs, across a whole range of labels. You'll find it at 6301 Biscayne Boulevard.
Sunset Harbour
Sunset Harbour is a neighborhood in the northern end of South Beach. It gets its name from its awesome views of the sunset over Biscayne Bay. It is home to a lot of locally-owned shops and restaurants all within a relatively small area. Popular shops include the Sunset Clothing Company and Frankie Miami. There's even a pre-loved designer clothes shop called Consign of the Times.
Coco Walk
Coconut Grove is a really unique area of Miami. It's a tropical oasis and the oldest inhabited neighborhood in Miami. It is well worth a visit for its relaxing vibes alone. CocoWalk is the neighborhood's own shopping mall. As well as all the usual mainstream names – there are some local boutiques, art galleries, and antique stores to discover. Coconut Grove, Miami.
BoHo Hunter
Four friends run this Wynwood shop – they are from Venezuela, Peru and Mexico. It sells beautiful products made by Latin America designers. You can pick up everything from accessories and clothes to homeware. It is a must, particularly if you are looking for a unique statement piece. 184 NW 27th Street.
Design District
This is worth a visit just for the experience as it is full of design installations and sculpture as well as all the usual brand flagship stores. Check out their website to see what the latest additions are as new outlets regularly open up. It's located at 3841 NE 2nd Avenue – which is 7 miles from South Beach, 2 miles from Downtown Miami and 5 miles from Miami International.
Madeleine's
This place is really popular for its good selection of vintage designer labels like Chanel and Gucci. There are lots of fabulous and really good quality unique items if you are prepared to spend the time having a look. It's located at 13702 Biscayne Boulevard, North Miami Beach.
Explore Miami with Gray Line Miami:
Shopping is just one of the many reasons to come visit Miami – it's such a unique destination. If you are planning to visit Miami, then please do get in touch with us at Gray Line Miami – we're the area's sightseeing experts and run tours of Miami and the surrounding area – as well as offering airport to hotel transfers. Hop over to the Gray Line Miami website at graylinemiami.com where you will find full details of this and our Miami Tours and day trips in the region.
You can also visit our Facebook and TripAdvisor pages for travel inspiration and more feedback from our guests.
We look forward to meeting you soon on one of tours of Miami!