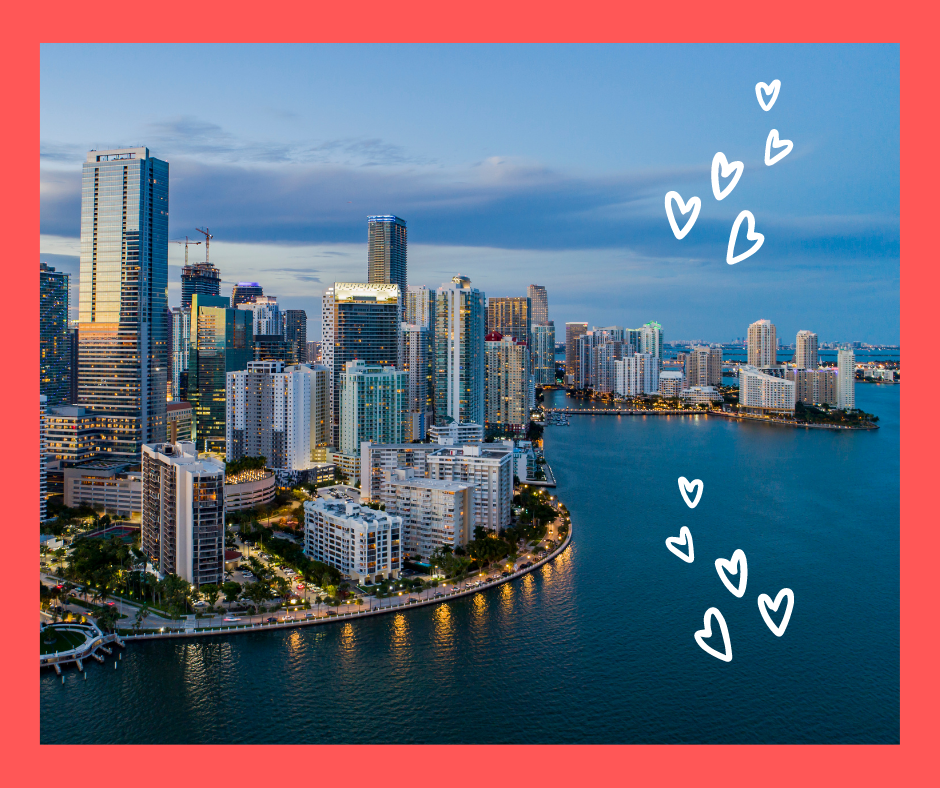 Love is always in the air in Miami! With its endless sunshine, romantic beaches, and countless date-night restaurants, the Magic City is the perfect place for a lovely getaway. Take your special someone by the hand and embark on a sparkling date by the beach; perhaps dine in a five-star restaurant; or relax in a glamorous hotel with envious views of downtown Miami. The possibilities are limitless! To help you with your Valentine's plans, we've collected some ideas and places to visit that will surely amaze your favorite person in the world.
Where to Stay
Circa 39 Miami Beach – This vibrant, 60s-style boutique hotel is ideal for a couple looking for a low-key staycation. Located near the ocean, but not too close to the beach's hecticness, Circa 39 offers a pampering experience with its many comforts and delights. Amenities include a large pool, a hip bar with an excellent selection of cocktails, and even the WunderGarden, a private, tropical hideaway located in the heart of the hotel. (Rooms start at $199 per night.)
Novotel Brickell Miami– Emphasis on chic and cozy. For couples that love the electricity of Miami's downtown, this hotel is the perfect selection. Inside the epicenter of the Brickell financial district, this contemporary hotel provides a luxury experience and a prime location. With your stay, you'll have easy access to sublime meals at nearby restaurants, cold drinks at top-of-the-line bars, and the most exciting shopping experiences at the Bayside Market Place and Brickell City Center. (Rooms start at $249 per night.)
Mandarin Oriental, Miami– The Mandarin Oriental can eloquently and simply be described as elegant. This Asian-inspired hotel is located on Brickell Key, sandwiched between downtown Miami and Biscayne Bay. The hotel itself is shaped like a fan, making it stand out as one of the bolder shapes in the famous Miami skyline. Marble bathrooms, spacious balconies, palatial beds that feel handmade from clouds, exquisite meals from La Mar, one of the best restaurants in the city – the Mandarin has it all for an unforgettable Valentine's date. (Rooms start at $450 per night.)
Where to Eat
The Bazaar– Not the cheapest option, but the highest quality is guaranteed. There are various locales across the country; the Miami one is located in the SLS Hotel South Beach. This iteration is housed in a deco-type building with exaggerated decorations and an opulent ambiance. The menu is centered on Latin-inspired cuisine – explosive, intriguing presentations, at that. Sea urchin cream served with seaweed and ponzu. Dragon fruit ceviche with crunchy pecans and a savory tuna. Fish en papillote with crispy quinoa and a decadent alcaparrado sauce. Come and you'll enjoy a symphony of succulent dishes.
Casa Mariano– Headed by Chef Mariano, Casa Mariano features a delectable array of Mediterranean dishes. Partake in a black ink seafood risotto, paired with a Singapore Laka sauce. Basque-style branzino served with savory grilled asparagus. Travel north to the Nordics and delight in a pistachio-fennel-crusted Norway Salmon, with delicious artichokes and sundried tomato risotto. No need to travel to South Europe, just head over to Casa Mariano with your special someone – don't forget to order the chocolate tart with two spoons.
Wayku– Andean cuisine is the focal point in Wayku. Experimental techniques give way to new twists to Latin favorites. The uniqueness of South American cuisine is its eclectic nature – Iberian, Indo-American, and Asian flavors unite to create extravagant plates. At Wayku, you can find crisp tuna tataki with mango, avocado, and ají amarillo sauce with black tuile; indulge in Rio de la Plata bao bun, which comes with sliced loin, caramelized onion, and red beet mayo; or be captivated by the Patagonia, a rack of tender lamb accompanied with Andean potatoes and artichokes. Your significant other will be greatly thankful.
What To Do
Bimini: A Day Trip to Paradise– Perhaps the ultimate Miami Valentine's date is a bit outside of Miami. Across the Atlantic Ocean, even. We're talking about Bimini in The Bahamas! On this gorgeous island coast, you'll explore the magnificent community of Bimini, full of historical appeal, modern attractions, relaxing beaches, and many wonders! With your Bimini Day Trip reservation, you'll also receive access to The Hilton at Resort World Bimini's casino, restaurants, and the Beach 360. Not to mention you'll drift into the calmness of the sea as you traverse on a state-of-the-art ferry to and from Florida.
Biscayne Bay, A Natural Wonderland– Biscayne Bay is Miami's jewel. Delight in the peaceful sea waves and the brilliant sunlight of the natural bay. Be captivated by Millionaire's Row – mansions and yachts that impress the senses with their splendor and beauty. And to top it all off, enjoy the greatest views of Miami's skyline. This guided tour will be a lovely nature date for all! 
The Best of the Magic City– Explore one of the greatest cities in the country! You and your partner will have an incredible time discovering Miami's timeless beauty and modern wonders. Miami's cultural heritage will be the perfect backdrop for a romantic outing, as you both uncover the charm of the Magic City. Be transported from downtown Miami to Venetian Causeway, to Little Havana, and to Wynwood. Undoubtedly, the ultimate Valentine's Date must be in Miami! 
Little Havana Food Tour– Little Havana is a world-famous Cuban enclave full of colorful, rich culture, warm, welcoming folks, and mouthwatering dishes. Take Valentine's Day dinner to the next level by venturing into a culinary walking tour! Visit local restaurants and learn of the history and techniques behind the iconic Cuban cuisine. Explore the legendary Calle Ocho, the epicenter of Little Havana, and get to know the amazing Little Havana chefs. 
♦