Miami's cuisine is the perfect blend of flavors, variety, and international influences. Much of South Florida's culinary culture is an eclectic collection of Caribbean and Latin American flavors, African American savors, and even European tastes. But something that Miami is especially known for is a good sandwich. There may be hundreds of sandwich options in the city, but there are a select few that should be at the top of anyone's list. To get a complete taste of Magic City's sandwich menu, come explore Miami and delight in the best selection of sandwich spots.
1. Publix Deli
This may sound like a peculiar starting point, but any Florida local will tell you that Publix is a God-sent. This grocery store chain is not only a Florida staple but also a delicious food stop for a variety of delectables. The deli is unbeatable, with an extensive collection of meats and cheeses to fill just about everyone. Stop at just any Publix and let your tastebuds go wild!
2. El Bagel
This pop-up-turned-brick-and-mortar shop is now a thriving restaurant that serves the tastiest bagels. The most popular items include the BEC (bacon, egg, and cheese), the EB Original (scallion cream cheese, roasted jalapeños, and thick-cut bacon), and the King Guava (guava marmalade, plain cream cheese, local egg, and fried potatoes.) Get the crispiest bagels, the creamiest cheeses, and a fresh selection of veggies and have the dreamiest bagel imaginable. Note: Because of the pandemic, the establishment is only taking online orders.
Established in 1988, this restaurant chain offers an excellent flair of French favorites: crispy baguettes, soft, buttery croissants, and the most delicious vinaigrettes imaginable. Pick your favorite toppings for some fabulous sandwiches, and either dine-in or take-out. With a single bite be transported across the Atlantic to an exquisite French experience.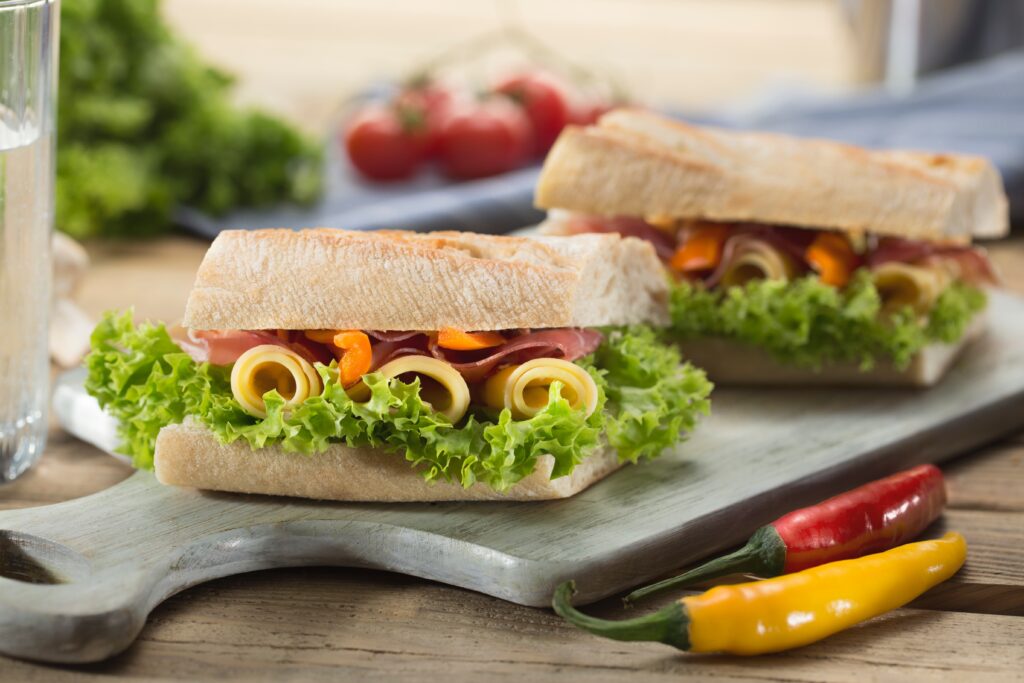 4. Versailles
We can't talk about Miami sandwiches and not mention the Cuban sandwich. Famed by the large Cuban population in South Florida, the Cuban Sandwich is a delectable mélange of meats, mustard, cheese, and toasted bread (more like flattened but toasted nonetheless.) Versaille's Cuban sandwich is one of the most acclaimed in the city, eaten by politicians and celebrities alike. Come and have this popular entreé yourself!
5. Josh's Deli
Last but not least, this spot is a modern twist on a traditional Jewish deli. Find the finest pastrami, pork slices, homemade pickles, Swiss cheeses, and porcini in all of South Florida. Traditional options get an exciting twist, and, really, who can beat a good deli sandwich at 1 AM? Find an appetizing sub tailored just for you and get lost in a sea of flavors.
Have another favorite Miami sandwich place in mind? Craving a bite? Come visit Miami with us and have an exquisite food tasting experience!