Miami is an iconic holiday destination for visitors from all over the world. Visit Miami and you are guaranteed a memorable vacation! If you are traveling here to Miami for the first time, then let us help you prepare with this list of travel tips for first time visitors to Miami:
The weather – the sun shines all year round!
Miami enjoys a subtropical climate. Winter is relatively warm in Miami. The average winter temperature here is 22°C or 72°F. Summer is warmer still, temperatures are usually at high 70s-high 80s°F, that's 25°C to 32°C. From July to September it is still warm but precipitation increases and this means it can be a bit rainy – this is a factor that goes along with being a sub tropical territory. If there are hurricanes, then these usually land in August and September, but that season runs right through to November.
The language.
The great thing about Miami is that many nationalities have made their home here. English is the official language in Miami. Over 60% of the population speak Spanish too since many of our residents are from Spanish speaking countries.
The nightclub district on #SouthBeach #Miami. A must see for any visitor to Miami.
Where to stay in Miami.
For the low down on where to stay, read our blog on the best places to stay in Miami. It details options in various areas – from Ocean Drive, Miami Beach and Downtown Miami, to options in different budget ranges. Either way, the rule is to plan ahead and book early for the best deals, particularly around the peak periods.
When to visit Miami.
Miami is a year round destination. It is always warm. However, the choice on when to visit will really come down to the weather, budget and peak tourism periods.
Winter is the when we have the best weather in Miami. However, this is also when most of our visitors arrive – so if you don't mind it being busy, then this might be an option. This period is great for people watching – it's the time to be seen in Miami. There will be plenty of events on throughout the area – including on Miami Beach. You do need to book in advance though as this period is popular for visitors.
If you'd rather visit outside the peak times, then March through June is a good time – it's still warm but there are fewer tourists around.
June – August is still a popular time as it's still very warm with temperatures in the high 80s – although there's a greater chance of rain.
September to November is still nice and warm here but the Fall is obviously quieter as there is the possibility of hurricanes taking place. The beaches are a little quieter as a result, however there are still plenty of tourists around.
South Beach and Golden Beach are awesome all the year through.
What to take with you to Miami.
To get this right, it's all about knowing what you want to do on your vacation. The list below covers the main bases – but it really depends on you and your plans.
Casual daywear for sightseeing
Beach and/or pool clothing
Smart wear for the evening
Clothes for going out to bars and nightclubs
Sunglasses and sunhat!
The beauty of #Miami is unrivalled. It's a vibrant place to be. You'll want to visit again and again!
What to see in Miami.
The first thing to point out is there's so much to see and do. So much in fact, that you might not be able to cover it all in one visit. However, try and add as many of these places as you can to your itinerary. To make the most of your trip, we'd recommend traveling to theses sights with a professional tour company like Gray Line Miami.
South Beach – or the beaches in general. The beaches in Miami are world class. You'll be able to sunbathe, play sport, party, people watch and more all the year round.
Neighbourhoods – You can read about Coconut Grove and Little Havana in our previous blogs. These neighbourhoods have unique atmospheres that you'll love to soak up.
Key West – visit the island in the Florida Straits, a relaxing location with a Caribbean atmosphere, laid back vibes and beautiful views. Or the Everglades – glide through a natural region of tropical wetlands, on an airboat ride. Both are within easy reach of Miami.
Art – From the historic Art Deco district along the beachfront, to the art events held throughout the area, you'll be spoiled for choice for cultural attractions.
Nightlife – Miami is famous for its nightlife and celebrity culture. From the nightclubs on South Beach, to the city's bars – you'll find a vibe to suit you.
Things to do In Miami in Winter
Miami is the perfect place to escape the cold chill of winter. During winter in Miami, the temperature steadily sits in the balmy 70s every day. There's something special about experiencing Miami in the winter, when everyone else back home is turning up their central heating, and seeing daylight disappear by 5pm. As well as great weather, you can also enjoy some great activities – here are some of the best things to do in Miami in winter:
1. Be captivated by Miami and its art during winter
Each December, Art Basel takes place in Miami (December 7-10, 2017). Miami has a thriving and cultural art scene year round, and when Art Basel comes to town, Miami's art scene goes up a gear, because this is when leading galleries from the world over show work of world-class artists, as well as that of new and emerging talent. Sculpture, paintings, film, photography and installations by over 4,000 artists will be on display at the Miami Beach Convention Center for Art Basel. Miami's cityscape, which is already beautifully enhanced by wonderful outdoor artworks year round, will have additional outdoor installations on display city-wide during Art Basel.
2. Celebrate Yuletide in the sunshine
In Miami, you can celebrate Christmas in the sunshine. Whilst many of your friends back home might be celebrating Christmas in the snow – you could be having Christmas on the beach in Miami. You can still do all the traditional Christmas activities – like singing carols, seeing Santa, checking out the Christmas markets, looking at the cheerful Christmas light displays at many of the city's sights – but, you'll also be celebrating Christmas in sunshine.
3. Go Mango strutting.
On the last Sunday of December, you can take part in the King Mango Strut in Coconut Grove. This year's event happens to be New Year's Eve. It's an annual parade that satirises and pokes fun at national and local figures and issues. It's a fun 'celebration' of the year's events and a memorable way to mark the year's close.
4. Ring in the New Year, Miami style.
One of the best things to do in Miami during winter is to ring in the New Year, Miami style. Miami is renowned for its nightlife – so it's a given that celebrating New Year in Miami will be an incredible bash. There'll be parties throughout town – with a firework display over the bay, and the annual 'the Big Orange' at Bayfront Park – a challenger to the famous ball drop in New York City. The events all over town are a mix of family friendly occasions – like this one at Bayfront Park – or VIP affairs at the city's best clubs and restaurants. There's something for everyone during New Year in Miami.
5. Celebrate the Carnevale in Miami.
Later in winter – during February and March – Miami is filled with celebrations and festivals to mark the Carnevale season, including the Calle Ocho Festival – the largest street festival in Miami. It usually features incredible food, dancing, music and art. Over at Coral Gables, the sister festival Carnavale on the Mile is a little quieter, but no less entertaining with food, stalls, and wonderful Caribbean sounds.
There's no shortage of things to do in Miami in winter. Visit Miami to swap your winter woollies for your shorts and shades. Enjoy the cultural celebrations the city will be hosting over winter, or just come and enjoy the weather and hit the beach – the gorgeous white sand and bright blue waves are as beautiful and appealing here in winter, as they are any other time of year.
Our Favourite Restaurants in Miami
Joe's Stone Crab
This is a classic dining experience. It was established back in 1913 and it has maintained its popularity ever since. Here you will find their speciality – stone crab – which you can pair with a number of side dishes. They are also famous for their old school white table linen and delicious desserts. The stone crabs are usually available from October until May. You can't reserve a table so be patient. There's also a takeaway version next door.
Red, the Steakhouse
One of Miami's true fine dining experiences. This establishment is well known for its Certified Angus Beef and being named one of the top ten steakhouses in the US. Everything on the menu and to the side is prepared from scratch. It's got a fabulous wine list and an even more impressive reputation for cocktails.
Crust
This Art Deco establishment, situated near Miami River, serves speciality pizza and signature Italian dishes. It's got a very welcoming atmosphere and is almost always busy so reservations are a must.
Farfalle
In Downtown Miami, Farfalle serves wonderful Italian food, excellent service and atmosphere. It's literally, a little Italy in Miami – which is quite a difficult thing to pull off successfully.
Zuma
Zuma is located inside the Epic Hotel in Downtown Miami. It's relatively new and one of the places to be seen. Similar to its London and Hong Kong branches, the Japanese menu offers the freshest seafood and sushi, as well as wonderful desserts.
American Harvest
At the other end of the spectrum, this deli style restaurant offers healthy options – where the food is clean and 'as close to its original form'. The setting is casual and the food is natural. Responsible, eclectic and inventive.
Glass & Vine in Coconut Grove
This restaurant offers a wonderful menu that's designed to be shared. It's a tapas style with inventive flair. The Coconut Grove setting adds to its popularity so reservations are advised.
Michael's genuine food and drink
This is the restaurant that started the farm to table approach in Miami. The menu regularly changes, depending on what's in season and what's available. Added to this, the menu offers small, medium and large options – so it suits all appetites and requirements.
Nightlife in Miami
Nightlife – it's one of the things Miami is famous for, right? Just like Miami's reputation for beautiful beaches and vacations, the nightlife scene is legendary.
However, it's not all about nightclubs where the rich and famous party. Miami's nightlife does offer something for most tastes and budgets. The first thing to do is to ask yourself what you want – is it to dance, listen to live music, enjoy a cocktail with a poolside view or rub shoulders with the jet set? Here's a quick guide to give you more information on what to expect from the nightlife in Miami:
1. Nightclubs.
Miami's South Beach nightclubs gave Miami its legendary nightlife status. If you want to, you can party through the night with tunes laid on by world class DJs. This is the place to see and be seen. Perhaps the most well known club here is LIV – a mega club where you'll find celebrities and stars on the other side of the velvet rope. It is mostly bottle service, so you'll need to bring cash.
Basement is another popular haunt – complete with an ice rink and bowling alley in the basement for when you need a break from the dance floor.
Twist, on South Beach is a haven for those who love to dance. Primarily a gay club set across two floors – everyone is welcome.
In Downtown Miami, E11EVEN is full of entertainment – you'll find performers, dancers and DJs here 24 hours a day.
You'll also find world class DJs and partygoers at ClubSpace – a warehouse type venue in Downtown Miami which is usually still partying well past dawn.
2. Cocktail bars.
For something a little quieter – there are some fantastic cocktail bars in the Miami area.
The Corner is a really distinctive cocktail bar in Downtown Miami. It's open into the wee small hours and the cocktails are a mix of classics and classy new recipes.
If you want to experience early days Miami chic then head to The Regent Cocktail Bar in South Beach. Everything about it is vintage! Given Miami's Art Deco reputation, it's an area that's made for cocktail bars – don't you think?
3. Rooftop bars.
Miami's rooftop bars are a really great way to experience the city's nightlife and its amazing views.
For a more laid back approach to rooftop dining and drinking, the Mayfair Hotel and Bar in Coconut Grove has a lovely view of the Grove and the Bay. On Miami Beach itself, many of the hotels will have some sort of rooftop bar. There, you'll find stylish venues like Clevelander and Dream South Beach. There's also a daily happy hour at the Hyatt Centric South Beach Miami's pool and restaurant.
In Downtown Miami, one of the most fashionable locations is Epic Hotel's Area 31.
4. Live music venues in Miami.
Jazid is a South Beach live music success story. Upstairs you'll find DJ sounds and downstairs you'll hear local musicians performing Latin and Jazz. It's a simple formula that seems to work.
The Mango's Tropical Café is a legendary bar, you'll find good music and dancers here every night of the week.
Check out what some of the hotels have on their bill, too. Some of them will host live music at various times of the week.
Also, the Jackie Gleason Theater in Miami Beach hosts live music performances – from well-known artists to musicians who are just starting out. You might find a hidden gem, who knows?!
Miami museums you should visit
We've said before that Miami was an iconic holiday destination. If you picture this destination in your mind's eye – you might picture white pristine beaches, beautiful blue skies, with a hint of neon at night. But, Miami is more than that – it's a cultural hot spot. Here we take a look at the Miami museums you should visit during your stay here:
Villa Vizcaya and Gardens
Originally built as a winter estate for James Deering. The gardens are stunning and were based on European styles popular at the time. After falling into disrepair, the property, its contents and gardens were sold to the County for $1 million.
#Vizcaya Museum and Gardens is one of #Miami's greatest treasures.
Perez Art Museum
This art museum is in Museum Park in Miami, having relocated there in 2013. (Museum Park is located in Downtown Miami). The Perez Art Museum focuses on twentieth century art and contemporary art. It recently took on several hundred new pieces in 2013, so even the most experienced contemporary art fan is likely to find something new here.
The Bass
Still on the contemporary art theme, The Bass museum also focuses on this genre. However, it's currently undergoing building works and won't reopen again until October 2017, but it's one to add to your list if you are visiting later this year.
HistoryMiami
This museum charts the history of the area – with permanent exhibitions that chart back 10,000 years. It's the largest history museum in Florida and is a fabulous way to really understand the story of the Miami area.
Miami Children's Museum
This is a great choice if you are visiting with children, or if you are just a big kid yourself! It is filled with fun and interactive exhibits. There's a climbing wall, and a two-story sandcastle to explore. There's something going on every day, so before you visit, check their calendar.
Gold Coast Rail Road Museum
This is another option for those with children, or those who are rail enthusiasts. The museum preserves historic railroad cars, like the one built for President Roosevelt.
World Erotic Art Museum
As the name suggests, this Miami Beach museum focuses on erotic art – with one exhibition dating as far back as 300BC. Their exhibitions change every so often, so if you've been before, you're likely to see something new on your latest visit. Obviously, everyone who visits needs to be 18+.
Museum of Contemporary Art
The MOCA is known for its thought provoking exhibitions. It has 600+ pieces from established and emerging international artists, and even more are part of their temporary exhibitions.
Fairchild Tropical Botanic Gardens
This not for profit organisation aims to give visitors a love for the environment. The founders, Fairchild and Montgomery, were dedicated to documenting and studying plant life from around the world. Their collection is still being added to every year, and visitors will certainly be in awe of the vegetation on display.
The Wolfsonian
Located on Miami Beach, this museum is a design-orientated museum with an impressive collection of architectural and industrial design, as well as furniture, paintings and sculpture on exhibition. There's 180,000 items on display. The hours do change and vary so make sure you check before you go.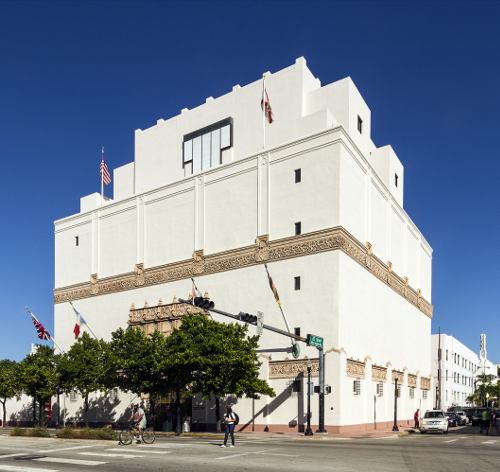 Explore Miami in safe hands with Gray Line Miami:
Gray Line Miami is the sight seeing expert of the region. We offer superb tours of Miami, as well as day trips to other destinations close by. Hop over to the Gray Line Miami website at graylinemiami.com where you will also find full details of all our tours of Miami, including our Hop On Hop Off bus tour which is a great way to explore the area – including stops at the Perez and Bass museums, VIzcaya and Coral Gables museums.
The Best Places To Stay When Visiting Miami
Where are the best places to stay when visiting Miami? There are a vast amount of options. I've worked in the Miami tourism industry for a while now, and I think the best way to go about choosing a place to stay is to think about what kind of experience you want, where your preferred neighbourhood is, and how much you want to pay. This will help you make the best choice for you.
To help you decide, I've highlighted a few themes with some examples of what Miami offers under each heading:
Boutique hotels in Miami.
Boutique hotels are independently operated, smaller and more intimate than your average hotel. They'll each have their own unique character – so it's a good idea to do your own research based on your own personal preferences. But here are some thoughts to get you started:
Vintro Hotel and Kitchen in Collins Park, South Beach is a chic refurbished hotel, which pays tribute to its Art Deco roots. Up top on the roof, there's a deck and pool, as well as an onsite restaurant.
If privacy is your priority, then check out The Anglers on Washington Avenue, South Beach. There are around 50 rooms and duplexes – some with private hot tubs and pools.
Sense Beach House is an environmentally friendly boutique hotel with just 18 rooms in the SoFi district. As the name suggests, the style is relaxed beach house. There's a rooftop terrace with views of the city, and each room has a flat screen TV. The location is just steps away from the beach, shops, restaurants and galleries.
Hotels on Ocean Drive, Miami.
Ocean Drive, Miami is the most famous neighborhood in Miami. It's home to much of the action as well as the city's Art Deco heritage. There's a variety of popular and interesting places to stay here, including:
Hotel Victor – a 91 room redesigned Art Deco style hotel right in the middle of thriving Ocean Drive. It has a pool, spa, candy shop and awesome views of its surroundings.
The Betsy is on the quieter end of Ocean Drive and is an art deco 'colonial' style boutique hotel with 62 rooms. It's quite rare in that it offers jazz evenings and literary events. The rooftop garden with ocean views is very special.
Tides, South Beach is at the top end of Ocean Drive, and its just steps from the Atlantic Ocean. Each room has an ocean view in this Art Deco hotel. The style is very much spacious, bright and minimalist.
Hotels on Miami Beach.
Miami Beach is a barrier island and is connected by bridges to mainland Miami. It's here you'll find South Beach and Ocean Drive. Outside of Ocean Drive, there's a variety of amazing places to stay:
The huge Fontainbleau Hotel is more resort than hotel, and it offers a real Miami experience. There are 1,500 rooms here. All the pools have an ocean view. There's access to the beach, a spa, nightclub and around 12 bars and restaurants.
The Gale Hotel, located on Collins Avenue is a chic 87-bedroom hotel all with spa inspired modern bathrooms and an award winning in house restaurant.
There's also the Loews Miami Beach Hotel, which is a family friendly hotel on Collins Avenue. It's location means visitors are right in amongst all the action of South Beach. There's a lagoon style pool, spa, seafood restaurant and an ice cream shop for the children!
Hotels in Downtown Miami.
Away from South Beach, downtown Miami offers a different experience. It's a popular part of Miami that has a lot of well-liked clubs and bars.
YVE Hotel Miami is located in downtown Miami and overlooks Biscayne Bay. It's 15 minutes in a car away from South Beach. It's an affordable and friendly option that offers a good experience of Miami.
ME Miami – another downtown offering that's not far from some of Miami's best cultural and entertainment highlights. It has all the amenities you'd expect – with a bar, spa, pool and gym – and it is friendly and affordable. The rooms are stylish and spacious.
Budget Hotels in Miami.
If you are looking for something a bit more basic and cheaper, then some of the best budget hotels are:
The New Yorker Boutique Hotel, which is situated on Biscayne Boulevard. It is an ex Motel that has been upgraded to a Hotel. The rooms are more basic than others we've described here, but so are the prices.
In South Beach there's the Whitelaw Hotel and Lounge – another boutique hotel offering, at a very affordable price considering its Collins Avenue location. The rooms are large and comfortable and the hotel is right next to all the main attractions of South Beach.
Will you #FindAReasonToGo to Miami? We'd love to help you tour Miami.
The selection of accommodation is vast in Miami. This blog could have gone on for days if I were to cover it all. Hopefully you can see that there's something for all tastes and budgets. You just need to think through what is important to you.
When it comes to planning the other aspects of your visit to Miami, like touring Miami and seeing the sights, check us out at graylinemiami.com
We are sightseeing experts on Miami and we'd love to help show you around. Whether it is tours of Miami, the Everglades, Key West or Biscayne Bay, or even transferring you from airport to hotel and back again, get in touch to see how we can help you out.
Tour Miami in safe hands with Gray Line Miami:
Gray Line Miami is the sight seeing expert of the region. We offer superb tours of Miami, day trips to the Key west, Everglades and Bahamas. Hop over to the Gray Line Miami website at graylinemiami.com where you will also find full details of all our tours of Miami.
Here's why our guests think we are the best hosts to help them on their first visit to Miami: "My first trip to Miami and an absolutely wonderful unforgettable experience. All pickups were on time and the guides also very nice people. The everglades tour was exciting and super fun. The Key West tour was perfect to relax and have a shopping day with amazing sightseeing. I will use Gray Line tours without a doubt next time!! Recommended!" Via Nadia, TripAdvisor
You can also visit our Facebook and TripAdvisor pages for travel inspiration and more feedback from our guests.
We look forward to meeting you soon on one of tours of Miami!
Gray Line Miami team.