Miami has an unrivalled reputation as a city of fun and entertainment, which makes holidays like Halloween the perfect time to visit. There is something to suit everyone – from trick or treating to monster masquerades. Experience some palm trees with your pumpkins this Fall by spending Halloween in Miami. 
Here's our guide to this spooktacular season in Miami*.
Miami has a reputation for legendary nightlife year round – and each neighborhood – whether that's South Beach, Wynwood, Coconut Grove or Downtown all have a distinctive vibe and party scene. All of the best clubs and bars here will usually host a special Halloween event – whether that's a Yacht Party on South Beach or a Mask Off party in Wynwood, you'll be spoiled for choice if you want to experience Miami nightlife.
On Halloween night itself, Lincoln Road, which is in the heart of Miami Beach, will host Halloween on Lincoln – beginning at 5pm. The road transforms into an incredible stage where Halloween partygoers of all ages, dress up in their creative costumes and make their way down the parade. If you're in need of a boost to your energy levels, you'll not have far to travel as seasonal treats are on offer up the sides of the parade. On any other day, Lincoln Road attracts thousands of visitors from all over the world as it's home to some of Miami's top restaurants, shops and nightlife. So, as you can imagine, on Halloween, it'll be a particularly special place to be.
Over in the Coconut Grove neighborhood, which sits right next to the glorious Biscayne Bay, you'll be able to enjoy their annual fun filled family weekend at the Pumpkin Patch Festival.  The temperatures may be balmy instead of chilly – but there are still pumpkins galore. Choose your favorite under the gaze of the resident scarecrows, but beware you don't get lost in the spooky haybale mazes. There will also usually be a pumpkin themed beer garden and food court for the grown-ups. The celebration takes place ahead of Halloween this year – on October 21st/22nd, 2017. 
Bayfront Park in Miami has a brilliant reputation for hosting superb events each holiday, and Halloween is no different. Its Bay Skate Miami event hosts an outdoor roller-skating Halloween special – with costumes, music and food, as well as celebrity guests. Full details of the event will be released nearer the time at: bayskatemiami.com
Vizcaya Museum and Gardens will host their 31st Annual Halloween Miami Sundowner on Saturday October 28th, 2017. The party has quite a reputation for its glamorous costumes and bubbly atmosphere. It's all set in the remarkable sub tropical estate of James Deering, and proceeds from the event go towards protecting this landmark for future generations. It's always an incredible Miami Halloween party in a very memorable setting.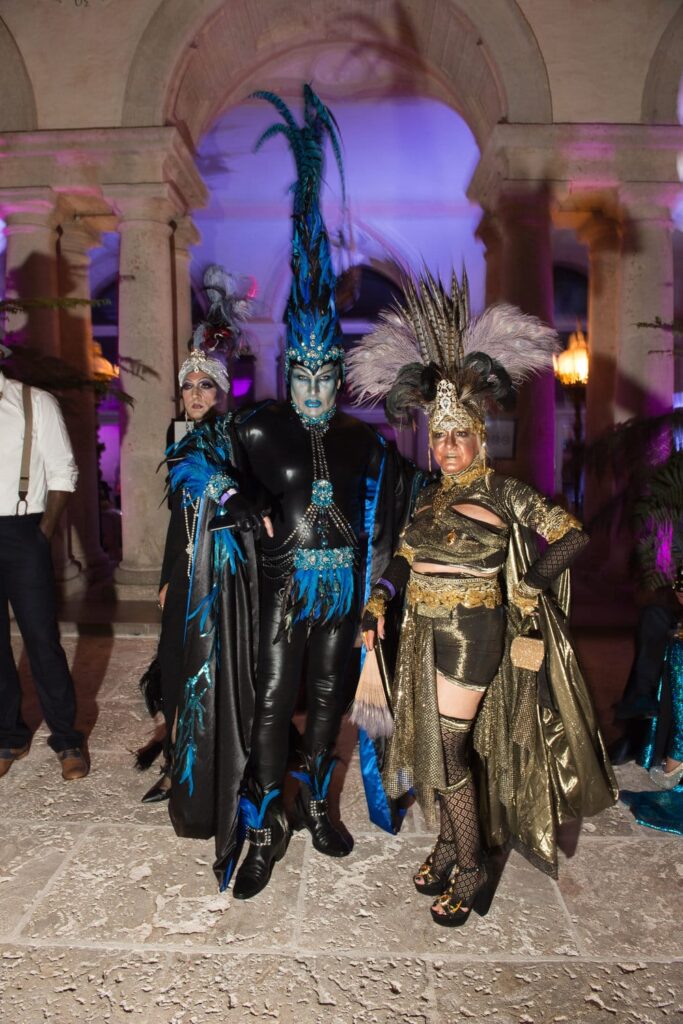 So, mix it up a little this year, and experience palm trees along with pumpkins, as you celebrate Halloween in Miami. With year round sunshine, Miami is a great place to visit at any time of year, but it's very special around the holidays – particularly so at Halloween. As you can see there's something for all ages – just make sure you pack your best costume and head over to our website and contact us for information on how we can help you experience Miami at this time of year. 
*Due to the effects of Hurricane Irma, some of the attractions in the city are just getting back to normal, so make sure you check details with the host or venue mentioned before finalising your Halloween plans.